Opvizor/AIChat
AI-powered monitoring, troubleshooting and insights.
Your Expert Ally in Navigating, Remediating, and Automating VMware Environments.
Use natural language
Opvizor's AI Companion
Your Ultimate Cloud Operations Ally
Unlock unprecedented efficiency and accuracy in your cloud operations with Opvizor's AI Companion. Seamlessly integrating with your daily tasks, our AI harnesses the power of real-time insights, extensive knowledge bases, and script automation, ensuring you're always a step ahead in the digital realm.
Remediate issues faster and more effective
Troubleshooting for configuration, metrics, and logs
Smart Knowledge Base Search
Intelligent VMware Manual Search
Automated PowerShell Scripts
Linux command line and scripting assistance
Kubernetes Configurations Mastered
support for many scripting and spoken languages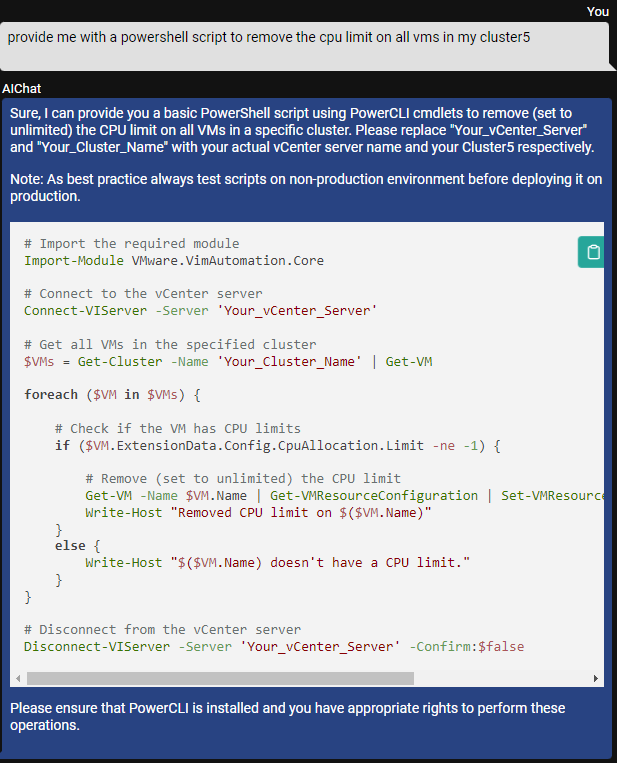 ALWAYS AVAILABLE
Monitoring should be always available
Enhanced Efficiency and Accuracy

Intelligent Troubleshooting

Automation and Scripting Assistance

Smart Knowledge Navigation
Unlock a New Realm of Operational Excellence
Discover a higher plateau of operational efficiency with Opvizor's AIChat seamlessly integrating with your daily cloud operations.
Our cutting-edge AI technology provides real-time insights that help in refining processes and ensuring optimal performance.
Experience accuracy like never before, ensuring each task is executed with precision, making your VMware and cloud environments more reliable and robust.
Navigate and Neutralize Issues with Ease
Troubleshooting in complex VMware environments becomes a breeze with our AI-driven guidance.
Opvizor's AIChat effortlessly navigates through configuration, metrics, and logs to identify issues, providing you with straightforward solutions.
Expedite issue resolution, keeping your systems running smoothly, and significantly reducing downtime..
Scripting Simplified, Automation Amplified
Automate routine tasks and script management with ease using Opvizor's AIChat.
Our platform offers Automated PowerShell Scripts and Linux command line assistance, liberating your time for more strategic initiatives.
Embrace the ease of automation and experience a noticeable uptick in operational efficiency and accuracy.
Your Gateway to Instant, Intelligent Information
Access the information you need swiftly with our Smart Knowledge Base and Intelligent VMware Manual Search.
Opvizor's AIChat cuts through the noise, fetching the most relevant solutions and guidance from extensive knowledge bases.
Say goodbye to tedious manual searches, and welcome a new era of intelligent, instant information retrieval.
POWERFUL FEATURES
AI assisted deduplication of issues
These features emphasize the depth of functionalities and the broad spectrum of support Opvizor's AIChat provides to VMware and cloud professionals in managing and optimizing their cloud and virtualized environments.
Stay updated with real-time analytics and insights that empower you to make data-driven decisions swiftly.
Extensive Knowledge Bases
Harness the power of extensive knowledge bases to resolve issues and improve your VMware and cloud environment's performance.
Automate repetitive tasks effortlessly with our script automation feature, saving time for more strategic operations.
Intelligent Troubleshooting
Navigate through configurations, metrics, and logs with ease, identifying and rectifying issues faster than ever.
Smart Knowledge Base Search
Access a wealth of information swiftly with our smart search, filtering through extensive knowledge bases to provide relevant solutions.
Automated PowerShell Scripts
Execute PowerShell scripts automatically, enhancing operational efficiency and reducing the scope of manual errors.
Linux Command Line Assistance
Get real-time assistance on Linux command line operations, simplifying complex tasks and boosting productivity.
Kubernetes Configurations Mastered
Master the configuration of Kubernetes environments with intelligent guidance, ensuring optimal performance and security.
Unleash Operational Excellence - start a trial