PRODUCT
VMware, AWS and Azure Monitoring in one Place
Never miss a performance bottleneck, filled up disk or dropped network package again. Know your operational risk of Hosts and Virtual Machines in your multi-cloud environments.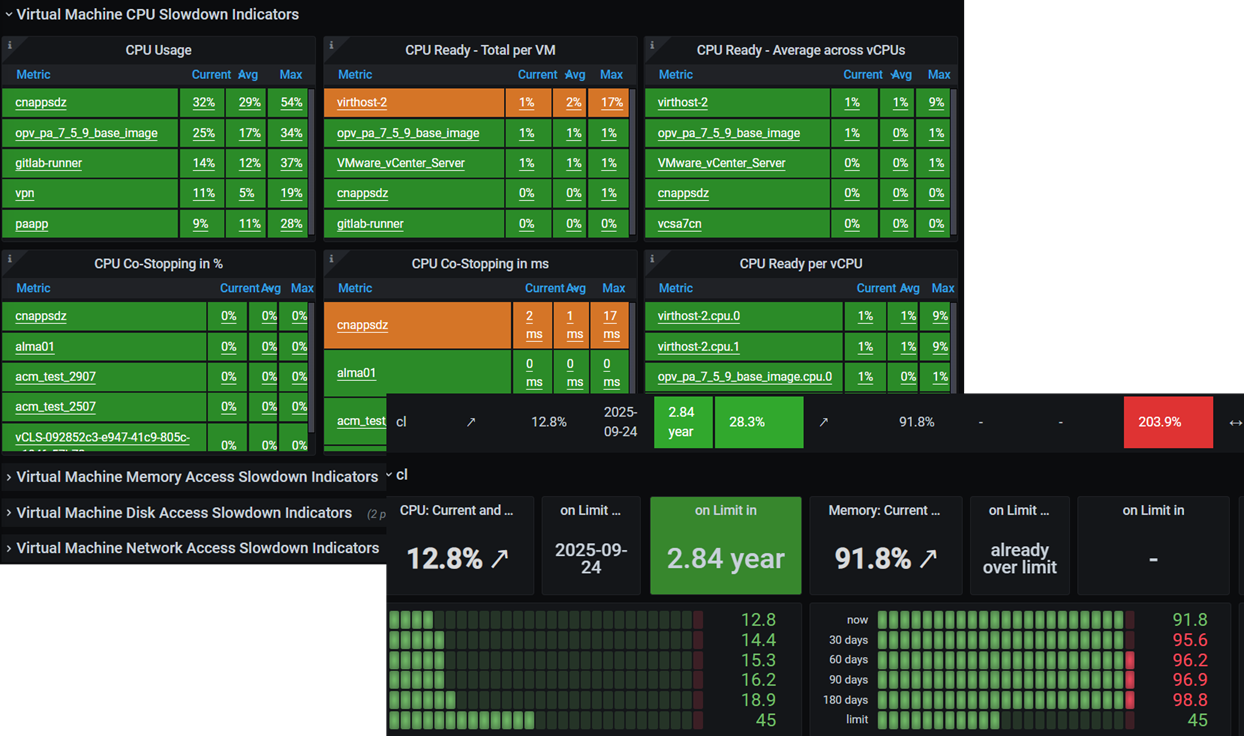 Use natural language
Opvizor's AI Companion
Your Ultimate Cloud Operations Ally
Unlock unprecedented efficiency and accuracy in your cloud operations with Opvizor's AI Companion. Seamlessly integrating with your daily tasks, our AI harnesses the power of real-time insights, extensive knowledge bases, and script automation, ensuring you're always a step ahead in the digital realm.
Remediate issues faster and more effective
Fast and precise dashboard navigation
Troubleshooting for configuration, metrics, and logs
Smart Knowledge Base Search
Intelligent VMware Manual Search
Automated PowerShell Scripts
Linux command line and scripting assistance
Kubernetes Configurations Mastered
support for many scripting and spoken languages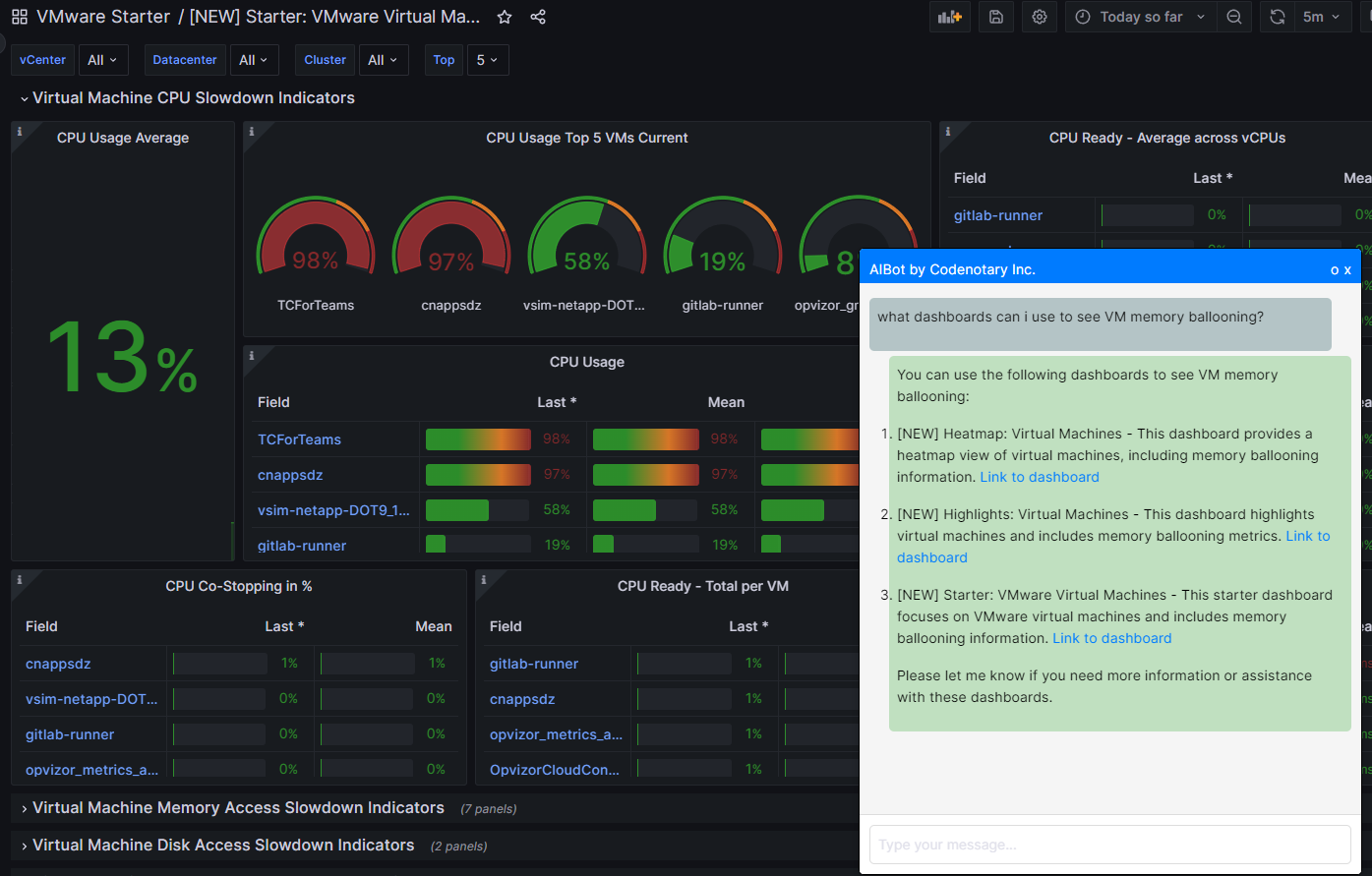 POWERFUL FEATURES
Performance & Operational Risk Monitoring, Log Compliance and Analysis
Optimize VMware performance and quickly resolve issues in your virtual machine environment
Monitor vital metrics of your most important virtual machines, check the network utilization of your ESXi host and much more from a single pane of glass.
Virtual Infrastructure Health
Always stay on top of your virtual infrastructure and feel the pulse of your environment.
Find Performance Bottlenecks
Finding bottlenecks is typically a pain, as you either don't have the big picture, not the historic data required or you just don't know the thresholds.
We guide you with easy to understand dashboards, embedded help and predefined thresholds.
Track the host and VM resource consumption over time and forecast resources needed in the future. Check how many new VMs can reside on the existing hardware.
Track all kind of changes that happen in the lifetime of a virtual machine. Adding memory, setting a CPU limitation or changing the network port group should not happen unnoticed.
Correlate the performance data in a chart with events that are happening on the virtual machine or the ESXi that provides the computing stack.
Thanks to our OS agents, integrations with physical network components and storage systems you can check the full stack and compare performance data yourself.
Interactive Demos
Check out our interactive product demos
RESOURCES
Powerful, Easy to use Capacity Planning
ASSESSMENT
Assess Your IT Infrastructure and Plan for Long-Term Growth
Use recommendations to optimize your VMware resources
View the resource utilization across instances and VMs and over time

Estimate consolidation or expansion in your existing or custom environment

CPU, memory, network, and disk utilization across cluster and environments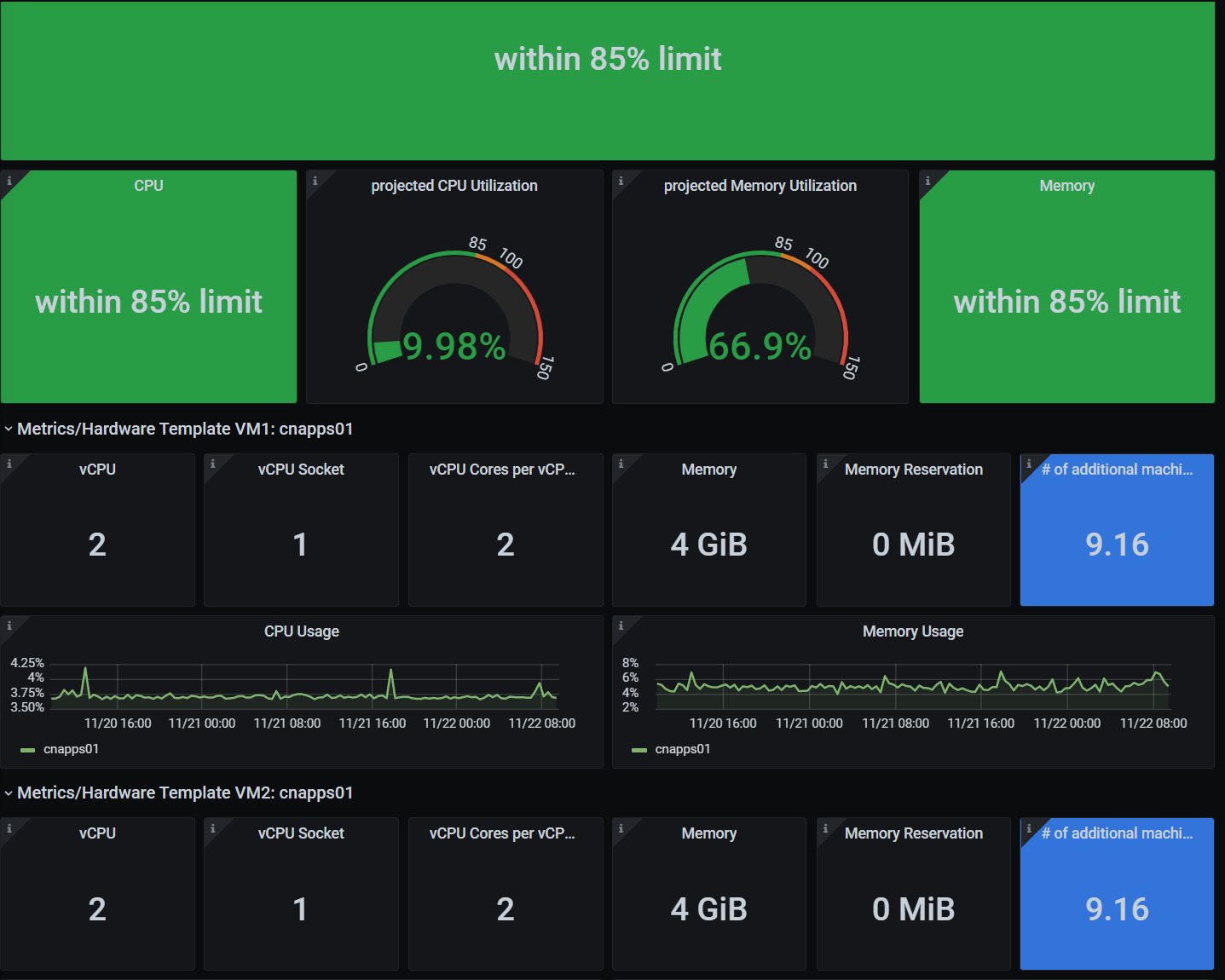 One-Stop shop for monitoring key infrastructure metrics