Start a Free Trial
Monitor, Analyze and Optimize VMware vSphere, Azure, AWS
Start your free trial with our turn-key solution and see all features in your own environment. No Risk, Just Benefits!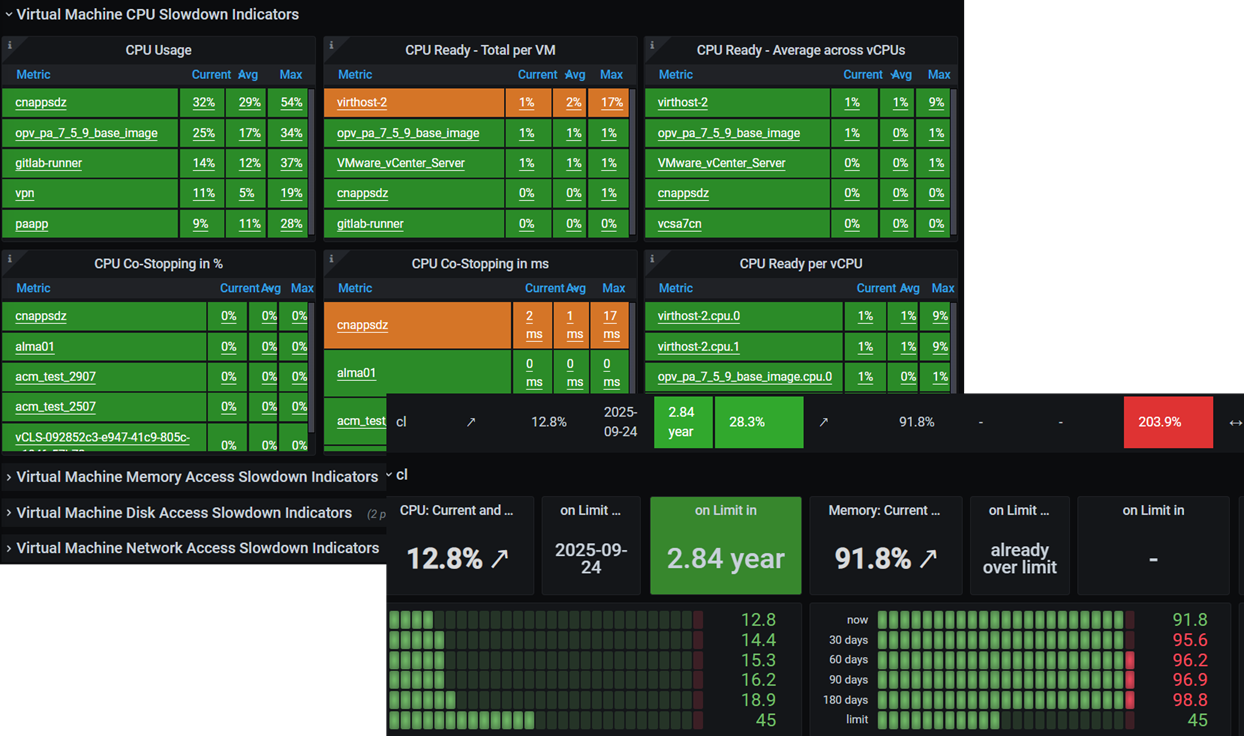 POWERFUL FEATURES
Everything you need to run a fast and reliable Cloud environment
Never miss a beat
Connect the dots and find bottlenecks across your virtual and cloud infrastructure. VMware ESXi, Virtual Machines, vCSA, Storage, Network, Applications. Performance and Log data close to realtime.
30+ integrations
VMware vSphere, VMware Horizon, NetApp, Cisco, Brocade, Linux, Windows, MS SQL, Oracle, PostgreSQL, Dell PowerMax, Docker, Kubernetes, Tanzu and more
Data correlation
Use performance data, configuration data, log feeds and events correlated in one dashboard view. Get alerted based on unwanted configurations, performance deterioration, or outages.
Fully customizable
Create new dashboards or customize existing dashboards to meet your needs. Choose from more than 50 built-in dashboards that meet specific needs.
Can I run Opvizor on-premises?
Yes, Opvizor runs without any internet connectivity.
Opvizor is available as a virtual appliance that you can import into your VMware vSphere environment. Patches can be downloaded from our customer portal and installed without any internet access.
Do I need to install any agents to collect VMware vSphere data?
Many integrations work without installing an agent:
VMware vSphere
NetApp
Microsoft SQL
Oracle
PostgreSQL
Dell PowerMax
Cisco UCS
Cisco Switches
Brocade Switches
Agents are required for Operating System data and some applications.
How to analyze log data?
Opvizor supports the Syslog protocol and you can simply configure the ESXi hosts, the vCSA appliance and many other systems to send data to the virtual appliance.
How well does it scale?
Opvizor has been developed with scalability and efficiency in mind. Most deployments consist of a single virtual appliance that can consume all metrics, logs and configuration data. When exceeding 100 ESXi hosts and 1500 VMs, we recommend a split into 2 virtual appliances. In any case, you see all data within the dashboards.